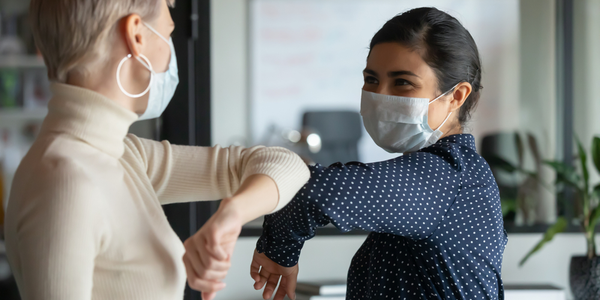 In a year defined by hardships and uncertainty, constructive working communication is as important as ever. It can be the backbone in fostering and maintaining morale, keeping production at a necessary pace, and preserving a positive workplace culture. With so much to do and worry about, "checking in" with staff may not be high on the list of a leader's priorities right now, but it is imperative to keeping the ship afloat. At LM Thomas Group, we regularly help organizations conceive and sustain the practice of communication for the good of the entire company. Given the current climate, we have put together a quick list of easy tips to keep your workplace communicating, collaborating, and achieving.
"We and Us."
Language has great power and even the most subtle tweaks can have significant impact on how communication is received. When addressing their audience, a leader will frame and situate their staff as either individuals or as a collective. Say you are at a staff meeting regarding new policies for the office, and you say, "I have decided to institute a document sign-off sheet to clarify when you have received a document and when you pass it on." By using language highlighted by "I" and "you," the leader has separated themselves from the staff and the staff from one another. Consider this reframing: "In order to track our work as it moves through the office, we're going to attach a sign-off sheet on all of our documents." It may seem inconsequential, but consistent and thoughtful framing of "we" and "us" is a big part of progress toward creating a united community collected around common goals. To put it another way, it frames your staff as working WITH you, instead of FOR you.
Checking in
Speaking from experience and the experience of many, many others I have spoken with over the last few months, job security is high on the list of concerns. Office cultures are tense, and the necessary guidelines of facemasks and social distancing are only compounding the problem. Insecurity can breed many negative impacts, such as poor morale, diminishing work ethic, and suffering office culture. This is the time for a leader to step up and make small, but massively impactive action. Take a few minutes each day to "check in" with staff members. Ask them about their day, their families, their weekend plans, if they need any help, or if they have any questions, and then return the favor with your own. I'll admit, if this isn't an already established practice, it can be a bit jarring at the outset. However, face-to-face (even masked faces) interaction can be very affirming and lead to positive feelings toward our work, our workplace, and our overall sense of security.
Transparency
Obviously, an employer should not divulge ALL information. The leader's shoulders are heavy with the burdens of circumstances, decisions, and consequences. That is the plight of being in charge. However, your staff are not immune to knowledge and current affairs. One of the most damaging factors in workplace culture is rumors and speculation. Times are hard, and everyone is aware of it. By communicating as openly and honestly with staff as possible, you can dissuade negative feelings and actions, and bring your staff together with you in a collective goal. Addressing your staff saying, "Let's be honest, we're getting hit by this pandemic. But we can work together to cut some unnecessary costs, easily. If we limit our color printing, for example, or clean our own areas for a while. Any other ideas?" This gives your staff a chance to understand and internalize the current circumstances, work together to solve it, and can lighten the mental and emotional load on you.
These small, but significant changes to the way you think, communicate and act can have massively positive impacts on your workplace culture, your staff's professional and emotional mindset, and even for you. Understanding that times are tough, the view that your staff are in this together is the best outlook for everyone involved. It takes work, though, and conscious decision making. At LM Thomas Group, we can help you with all your organizational frustrations; helping with your processes to make you more efficient, utilizing your strengths, building solid teams, and communicating effectively and with impact. Call us for a free consultation. Tell us your story, and we can help you with the best solutions for your needs.